Installing Studs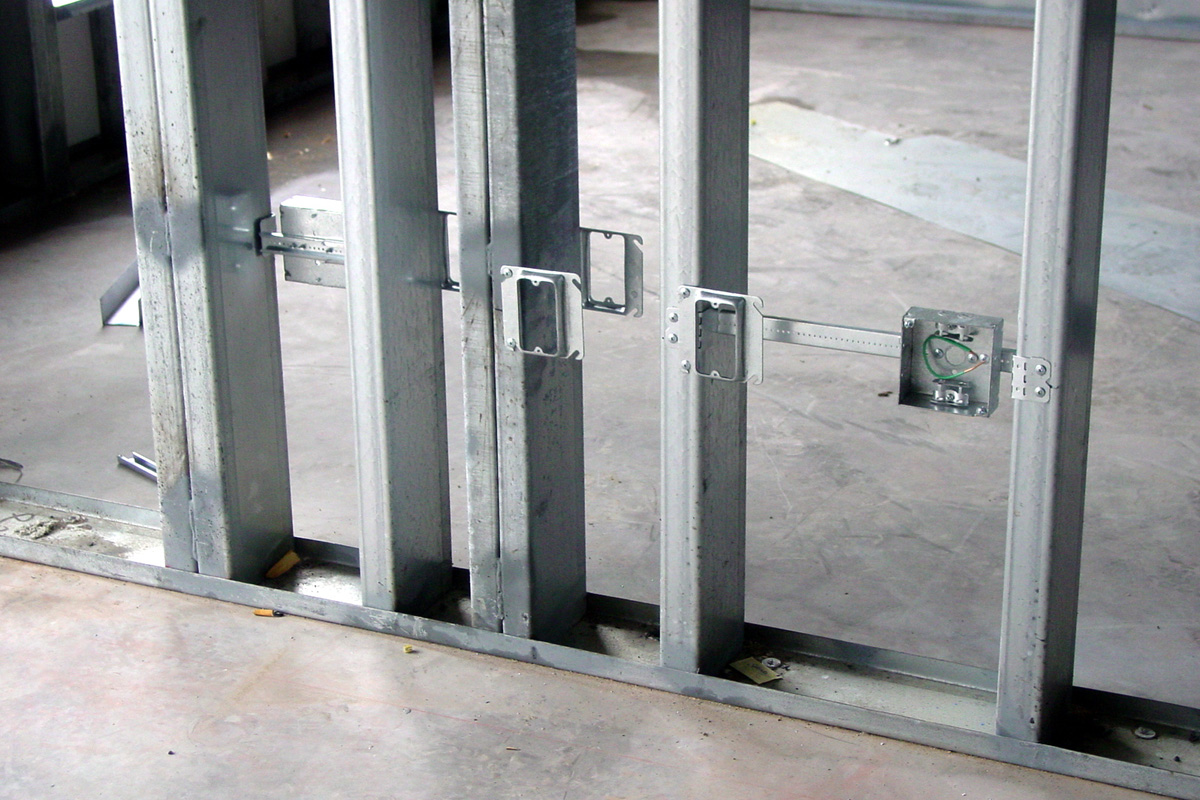 "Studding", "stuffing", or "framing" are just a few of the terms the framing crew may use to refer to installing studs. Installing the vertical studs is a fast and simple operation that seems to magically change the character of the project. The vertical framing is a three step process.
Insert the studs diagonally into the bottom and top track.
Slide the stud close to layout and twist into position with the soft side facing the direction from which the layout was pulled.
Tap the stud into position, plumb with magnetic level, clamp and fasten to the track top and bottom on one side.
It should be noted here that there are several opinions on securing the studs to the tracks. Securing the stud on one side is more productive, keeps the stud in place during rough-in construction and allows the drywall hanger to unscrew the top and adjust the stud if need be to keep drywall on layout. The drywall on the other side will secure the stud at the tracks during installation. Some building inspectors will require the stud to be fastened at each side of the track. Although this is not required by ASTM, it is a good idea to be proactive and discuss this with the building inspector. This will prevent any loss of productivity and time.

Orient the studs in the same direction and have the punch outs line up horizontally. This will be especially important if horizontal bridging is specified. Plumbers and electricians will thank you. At this stage of framing, it is important to coordinate with the contract drawings to install all supplementary framing and blocking to support fixtures, equipment services, heavy trim, grab bars,handrails, toilet accessories, furnishings, or similar construction. In Figure 2, note the horizontal metal strapping for the future attachment of kitchen wall cabinet.

News from Shenzhen Excel Building Products Co., Ltd